---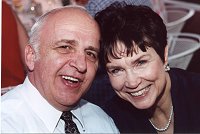 Dallas and Nancy Demmitt are a unique husband and wife team with extensive experience in Christian counseling, teaching and ministry. They use their own marriage to illustrate how to bridge distance in relationships with practical, down-to-earth skills that make a difference. They have co-authored "Can You Hear Me Now?"
They have been married 45 years and have two married daughters and three "amazing" grandsons - Luke, Joshua and Zachariah. They reside in Gilbert, Arizona.
Dr. Dallas Demmitt earned degrees in Theology, Sociology, a Masters of Social Work and a Ph.D. in Counseling Psychology. He has been in private practice for 30 plus years providing individual, marriage, family counseling and work place consulting. His special interest is working with men's issues and stress. He has been active for 15 years in launching small groups for Christian men. In addition, he has presented seminars in this country and overseas for churches, businesses, corporations, and professional sports teams. He started and led the chapels for the Phoenix Suns for six years.
Nancy Demmitt earned her Masters Degree in Marriage and Family Counseling from Arizona State University. She has been in the private practice of Christian counseling for 25 years providing individual, marriage and family counseling. An experienced trainer, group facilitator, she specializes in helping people break free from wounds of the past.
---

Dallas and Nancy Demmitt... are without question more knowledgeable about communication than anybody I have ever known. Their teaching on listening has greatly impacted my own life. Can You Hear Me Now? will become the benchmark by which every other book on the subject is measured. The book is filled with life-changing principles, and saturated with illustrations and instruction on how to be a good listener. This book can change every relationship in your life for the better.
___ Dr. Steve McVey, Author & President, Grace Walk Ministries
"Wow! This is a great book! I've been hearing (listening to!) Dallas talk about this stuff for years, and I'm overjoyed for him to see his life's passion in print. He's a personal friend and has been actively in involved in leadership and helping people listen-here in our church, Word of Grace. As the Demmitt's pastor, I can assure you that they live what they teach, and what they teach about the art of listening has had an extraordinary impact on hundreds of people. I'm one of them!"
___ Dr. Gary D. Kinnaman, Senior Minister, Word of Grace Church, Mesa, AZ
---
HOME | ABOUT US | BOOK | SEMINARS | PRIVATE COACHING | CONTACT US
© Discovery Listening 2011. All Rights Reserved